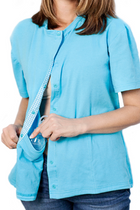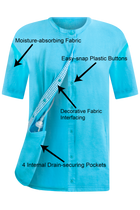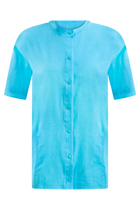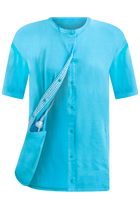 Description
The Courage to Conquer Cancer, Breast Surgery Recovery Tee, USA Patented, was created by a breast cancer survivor and her family as a way to give back and help other women recover from breast cancer. This Recovery Tee Shirt, made in the USA, was carefully designed with functionality, comfort, cost effectiveness, and fashion in mind.
Function: Each Recovery Tee contains internal pockets for drain management for mastectomy, reduction, and/or reconstruction surgery. This shirt will aid in your post-operative recovery by allowing easy access and safe containment of your drains inside these pockets without the use of safety pins or clips and can be worn during rest, activities, physician follow-up appointments, chemotherapy, radiation, x-rays, diagnostic testing, etc. After surgery, patients have limited mobility for an extended period of time. Activities of daily living become challenging during recovery. Dressing yourself should not be one of the biggest challenges during this period. For that reason, easy-snap plastic buttons were selected for ease of dressing.
Comfort: Breathable, moisture-absorbing, wicking fabric keeps excessive moisture away from your healing body. In addition, the fabric is lightweight, high-quality with an airy soft feel, but it is durable enough to last during the recovery time, treatment period and beyond.
Cost: The Courage to Conquer Cancer Recovery Tee Project was conceptualized out of the need for a high-quality product at a reasonable price point for patients who may already be facing costly medical bills. We wanted this shirt to be made readily available to all women knowing what a huge difference it makes during the healing process.
Fashion: The lightweight, soft fabric does not languish or drape on the body, resulting in a more flattering and fashionable garment. TheRecovery Tee is designed with cotton woven contrast fabric for decorative and functionality adding to the detail and embellished at the snap interfacing