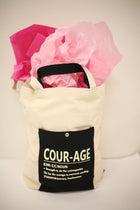 Description
It's sturdy, thick, quality canvas material is great for on-the-go activities such as doctor appointments, meetings, school, work, and all daily activities. It accommodates all your essentials: a notebook, a planner, books, a laptop, your phone, keys, etc. A great gift for the loved one in your life as a reminder to have courage as she faces all things throughout her journey.


DIMENSIONS:
Structure: 16" H x 14" W x 6" D
Handles: 13" shoulder straps and 5" handle straps (versatile handles for use based on your preference or activity)
CAPACITY: It can easily fit a 13" laptop, iPad or other tablet, books, magazines, day planner, and much more. The tote features one large top compartment, and it has exterior, 2-slot pockets with magnetic buckles on both the front and back. The deep, exterior, 12-inch pockets are great for small items like pens, a wallet, a cellphone, wipes, sunglasses, and keys. The internal hidden pocket (5" x 7.5") slot pocket is a safe place to store keys and a cellphone.
MATERIAL: Made of high-quality, durable, and washable canvas. This canvas tote is soft yet durable and versatile enough for everyday use. Spot clean and hand wash recommended.

This is an ideal gift for all the courageous women in your life!

Be sure to visit us on Facebook @Couragetoconquercancer
And if you have any questions, please let us know!

Thank you for shopping Courage to Conquer Cancer!