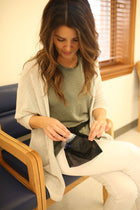 Description
Post Surgical Drain Belt with Pockets - Medical Supplies For Mastectomy or Breast Augmentation Recovery, Adjustable Belt, Holds 4 Drain Bulbs, Machine Washable


MADE WITH PATIENTS IN MIND: Useful for any procedure that requires post-op drain management: breast (mastectomy and other), heart, tummy, lung, liver, or kidney and organ transplant
SECURE YOUR DRAINS WITHOUT WORRY: Allows for independent showering without dangling drains; Contains drains under clothing and/or during sleep and prevents tugging or risk of pulling drains out
QUICK DRYING FABRIC THAT FEELS SOFT AGAINST YOUR SKIN: Fabric is soft against your bare skin; Material is quick-drying, non-slip, lightweight, and durable for a secure fit to manage your post-surgical drains
ADJUSTABLE TO FIT MOST SIZES: You don't have to tie the belt! Belt holds 4 drain pouches, bulbs, or bags during recovery from surgery; Adjustable size range fits most waist sizes for maximum comfort
WASHABLE: Belt is machine washable and mesh pockets are removable; Pockets slip on and off for easy drying and washing, and can easily fit underneath your robe or gown, making it ideal for patients after an operation.
This is an ideal gift for anyone undergoing a mastectomy or other breast surgery, requiring drain management.

Or follow us on Facebook @Couragetoconquercancer
And if you have any questions, please let us know!

Thank you for shopping Courage to Conquer Cancer!