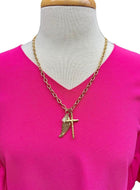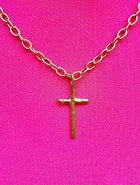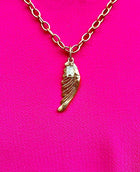 Description
This necklace is designed by

Deborah Henard MacFawn. It has been handcrafted

 with all handmade materials. The chain is adjustable up to 20 inches (can be made longer if requested) and is made of steel and heavily coated in either 12 karat GOLD or SILVER.
The WING is representative of the Angels watching over us
Psalm 91:4
He will cover you with his feathers, and under his wings you will find refuge; his faithfulness will be your shield and rampart
AQUAMARINE is the STONE of COURAGE. I have created pendants out of raw aquamarine nuggets and paired them with the wings.
The CROSS needs no explanation